WARRRL: WHS Audits and Alter Ergo
Western Australia Return Recycle Renew Limited (WARRRL) is the not-for-profit organisation created to establish and run Containers for Change in Western Australia. Since Containers for Change launched in October 2020, more than 1.5 billion 10c containers have been saved from landfill and turned into something new – from shoes to pens, tin foil to road base, as well as new containers.
Containers for Change has 260 refund points right across the state, giving every Western Australian the opportunity to save their containers from landfill. WARRRL is not only committed to empowering communities to recycle drink containers, but they're also committed to running a network that is safe, stable, efficient, and widely accessible. With the help of Alter Ergo, WARRRL has been able maintain and improve safety practices across the network.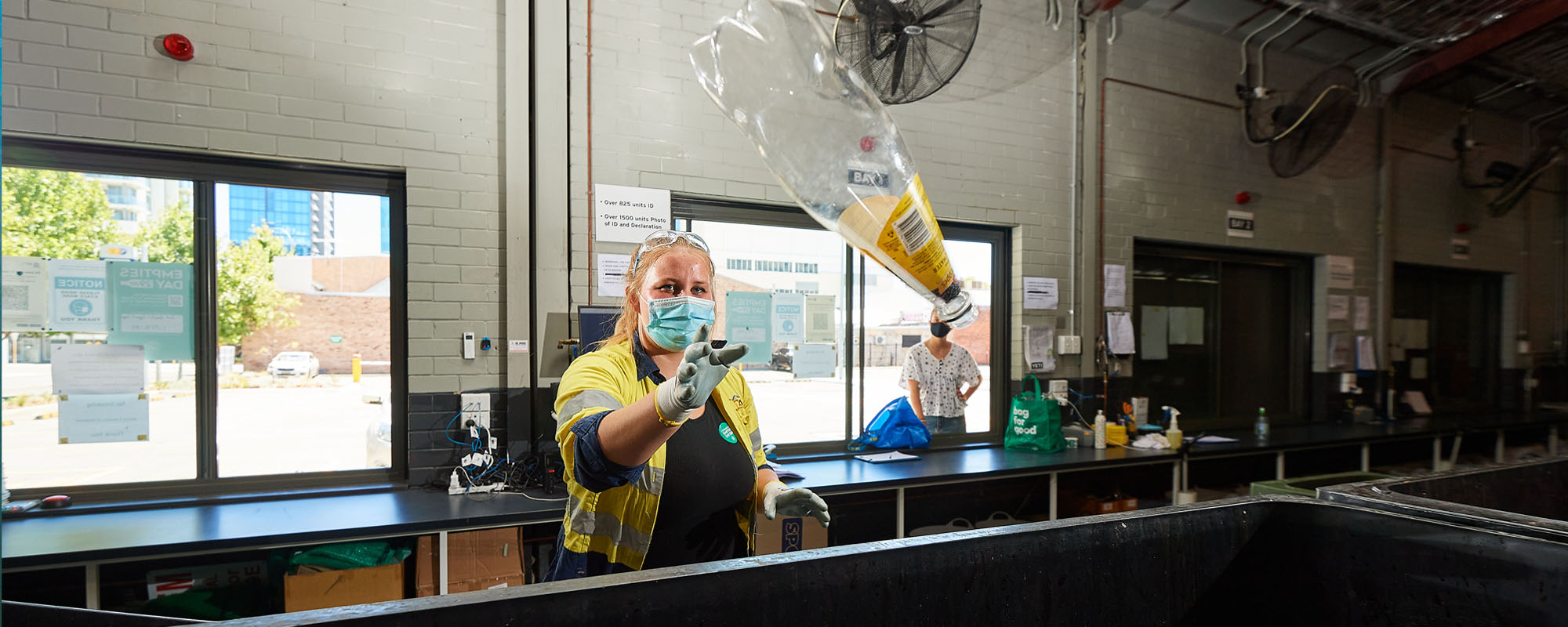 Project Scope
Coordinating over 260 work sites around WA is no easy feat, which is exactly what Western Australia Return Recycle Renew Limited (WARRRL) does for the Containers for Change scheme.
Containers for Change refund points are managed by independent business owners, from large organisations to small volunteer groups. This means each site has different environments, container volumes and knowledge of workplace health and safety.
WARRRL works to ensure each site is checked and verified from a safety point of view, that WARRRL and the sites meet the legislation requirements, and that business owners have all the resources they need.
Epigroup was engaged to support WARRRL's WHS commitments, and provide independent oversight.
Services Provided
WHS Site Audits
Over several months, our consultants visited 77 Containers for Change sites around WA. Together with WARRRL's in-house WHS team, we identified manual handling as one of the major risks to improve on.
Shortly after, WARRRL wanted to conduct a time and motion study to assess postures and prevent musculoskeletal injuries. The team asked us if we had any solutions for them and we agreed Alter Ergo was the perfect fit.
Alter Ergo
Alter Ergo is an Australian-first WHS service exclusive to Epigroup. We partnered with Principia Technology to pioneer a way to prevent work-related musculoskeletal disorders (WMSD).
WARRRL chose five busy sites, including refund points in the Perth CBD for us to use Alter Ergo and monitor the movements of employees. After arriving at each site, we briefed several staff members on the technology and placed small motion sensors onto their head, chest, arms, legs, hands and feet. For the workers, it was then business as usual. For us, it was time to analyse their postures and positions, and capture data on the heaviest loads sustained, repetitive movements and common joint angles. This data shows us where injuries are likely to occur, so that we can put preventative measures in place.
We packaged our findings and WHS recommendations into a report and shared them with the WARRRL team. Armed with the data, they can now provide training, resources, and assistance to all Containers for Change sites to lower the risk of workers developing a musculoskeletal injury or disorder.
Epigroup has been working with WARRRL for 12 months and continues to do so by helping the refund points understand and implement the recommendations. We look forward to continuing our relationship with WARRRL long into the future.
Testimonial
"Alter Ergo has brought the knowledge of WHS and hazard awareness up a huge notch, particularly with our small and not-for-profit businesses.
"Epigroup always provides a comprehensive service and have been reasonable in their rates for us. The staff are friendly and want to help us and our refund points any way they can. The team has a really good relationship with a lot of our refund points now.
"We have a real partnership in safety."
Denise Sawkins, WHSE Consultant, WARRRL