Alter Ergo
You've never seen WMSD prevention like this. Motion tracking technology, workplace screening, environmental factors, wellbeing data.
Work-related musculoskeletal disorders (WMSD) are the leading health and safety issue in Australia. Epigroup has partnered with Principia Technology to create an Australian-first WMSD prevention solution.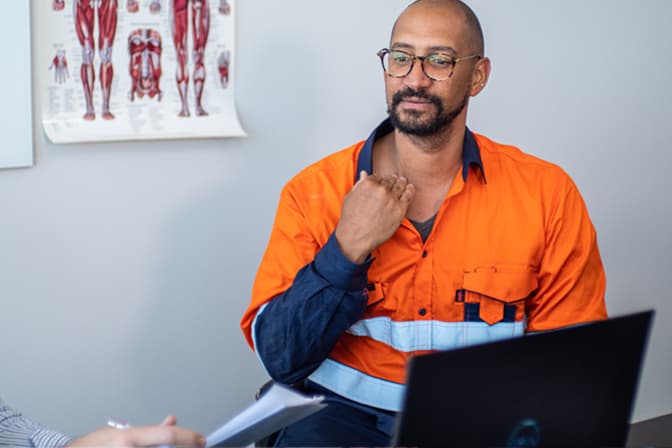 ​WMSD: Australia's biggest WHS issue
Safe Work Australia recently reported that work-related musculoskeletal disorders (WMSD) are the leading WHS problem in Australia, and cost our economy $24 billion dollars in 2015. According to AIHW, WMSDs affect 6.9 million people; add this to our ageing population and current labour shortage, and the risk of workers sustaining a WMSD is high.
Alter Ergo: Holistic WMSD prevention
We've partnered with Principia Technology to create Alter Ergo, a pioneering way to prevent WMSDs. An Australian-first, we're combining our WHS expertise with Principia's human movement knowledge, using Xsens motion capture technology to identify tasks that produce the highest risks. As well as capturing physical data, we incorporate cognitive and environmental factors to produce a holistic, 360-degree view of a task.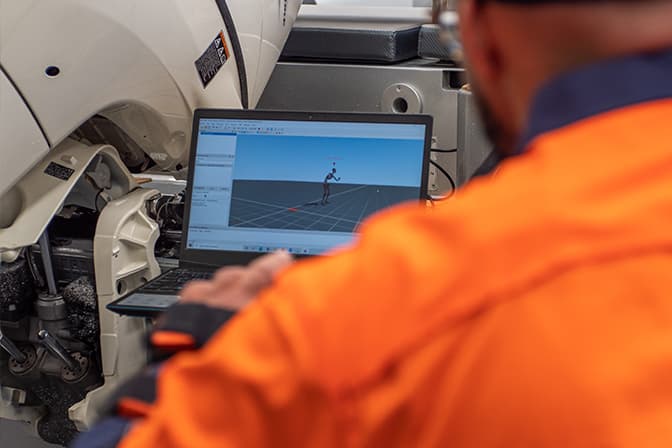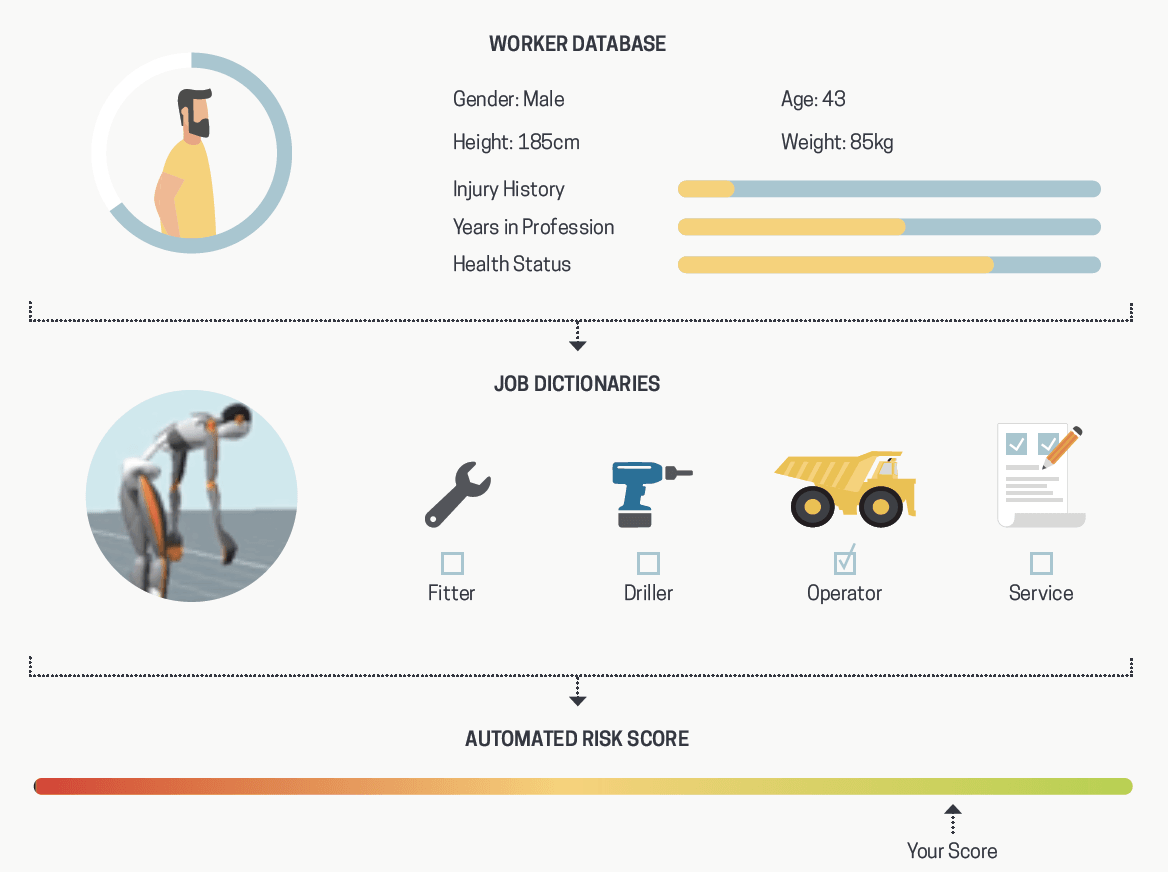 Game-changing applications
By bringing together often siloed data, employers can produce far more comprehensive WMSD prevention plans that encompass the tasks, human factors and environment. Alter Ergo also allows us to create a new generation of job dictionaries. A job dictionary is a description of a task associated with a manual role and any risks involved. Job dictionaries are typically photographs with descriptions, but to truly understand physical loads, we need a thorough understanding of workplace biomechanics. That's where we're shaking things up.
How to Reduce WMSD with Alter Ergo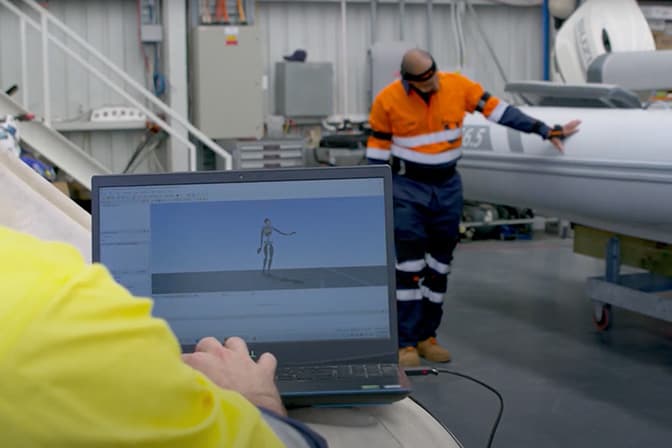 Step 1: Measure
We analyse worker movements using the Xsens suit, which accurately records the movement and joint angles in real time. The data is visualised with an on-screen avatar and graphs, allowing you to discover:
the risk of employees sustaining a musculoskeletal injury
the most difficult postures and work tasks
the postures sustained for the longest time
the postures in which the highest loads are suspected.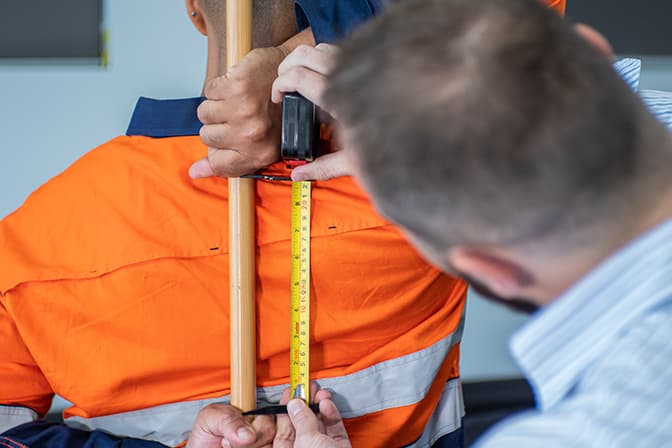 Step 2: Screen
Once we know the risks, we assess employees' functional movements to determine their risk of developing a WMSD. This workplace screening process involves:
performing functional movements
test flexibility
test range of motion
We then generate a low, medium, or high risk based on their functional movement capabilities scored against the job dictionary requirements.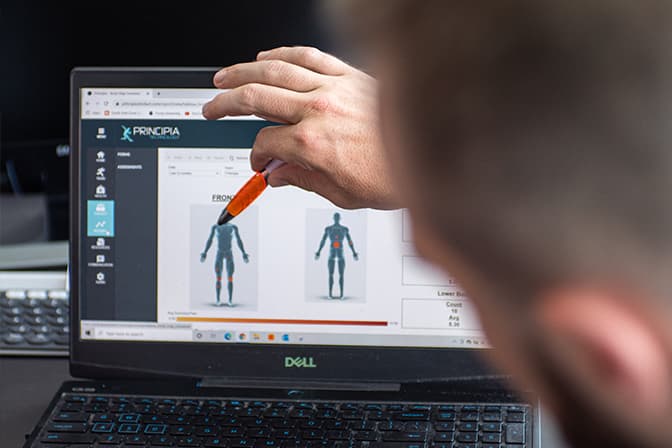 Step 3: Intervene
If an employee's risk score is high, we put a plan in place to mitigate the risks, and give you the information you need to be able to intervene and oversee the process. This plan can take the form of exercise or task specific intervention. If needed, workplace factors can also be taken into consideration, including:
length of shifts
appropriate breaks
the rotation of stations
redesigning tasks, environments and processes to reduce WMSD risks.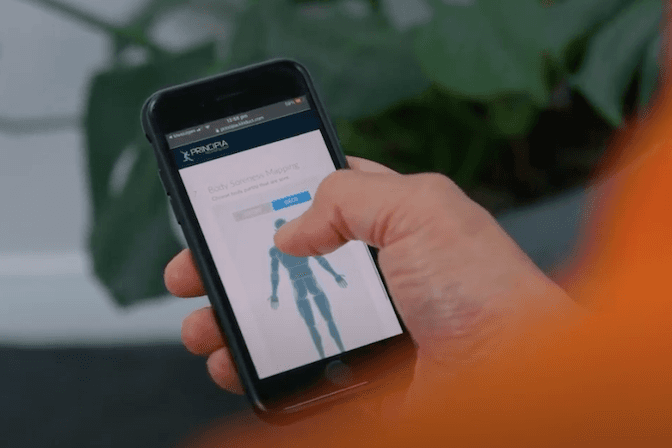 Step 4: Monitor
Using the Principia Platform, employers can consolidate information from a variety of data sources and continuously monitor their employees' health. Employees use the mobile app to enter their wellbeing data into the system, so employers can understand:
the optimal hours of rest and impact on cognitive awareness
full descriptive statistics of the posture and movement data
individual readiness to perform
operational risk scores
trends with data driven insights
If risks begin to arise again, we go back to the intervene step.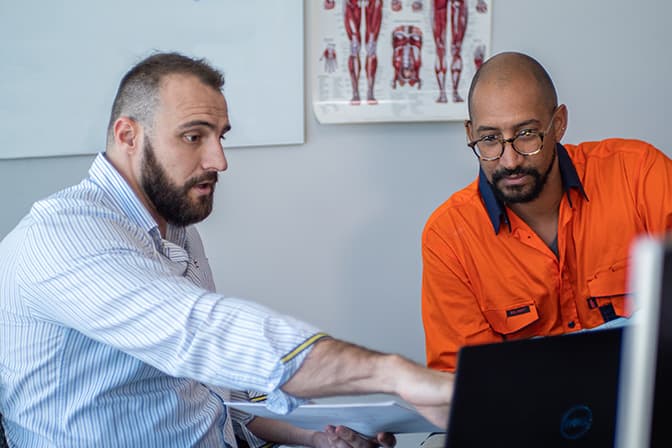 Work-related musculoskeletal injuries are Australia's leading WHS issue. Dr Jason Konrath – human movement specialist and founder of Principia Technology – explains what WMSD are, who's at risk, and how you can prevent them.