It's easy to appreciate a final product, it's refined, it's perfected, and ready to go – maybe like the coffee you picked up this morning. But what went into making it? Someone roasted the beans, and someone designed artwork on the cup, and the barista made it with passion.
But what goes into a polished video you watch online?
Here's how two of the Epigroup team, Drone Operator Robert Selman and Studio Manager Sebastien Gerard, mobilised at short notice to capture footage of a constructional vessel off Exmouth laying subsea pipes for an oil and gas company.
The call came in on a Tuesday at 4pm. With only a small window of clear weather forecast to capture the final stages of subsea pipe installation before the project wrapped up. The Epigroup team needed to be ready to travel 2,652 km on Thursday morning by Uber, plane, and helicopter to capture the incredible footage.
A Year Before: Certifications
Our team often films offshore in far-flung locations around the country, so they need to be ready. To travel offshore safely, everyone needs to be Basic Offshore Safety Induction and Emergency Training (BOSIET) certified.
To fly commercial drones in Australia, pilots need a Civil Aviation Safety Authority (CASA) licence. Sebastien joined the team straight from university, so one of his first projects was to complete the BOSIET certificate and the week-long CASA training.
RELATED: 7 Things to Ask a Drone Operator Before Hiring Them
One Day Before: Medicals and Equipment Packing
With only one full day to get everything ready, there was plenty to do. Both Epigroup staff needed a medical clearance declaring them fit to fly, then it was back to the office to get all the multimedia equipment ready. Everything had to be weighed, recorded, and the batteries packed securely and separately. The project required two DJI drones, an Inspire 2 and a Mavick pro as back-up.
The video script and shot list were finalised to ensure they captured everything. A MacBook and multiple hard drives were packed to download the SD cards and back-up the valuable footage. After two years of laying subsea, these were the final days of the project. The team couldn't afford to lose a single minute of footage. There would be no opportunity to reshoot.
Day One: Travel to Vessel
The team arrived at the airport to take a flight from Perth to Exmouth. After meeting up with the helicopter, the gear was loaded making sure it was balanced perfectly. The chopper ride was just under 30 minutes, flying over the clear blue sea and reef of Exmouth landing on the helipad of the massive vessel.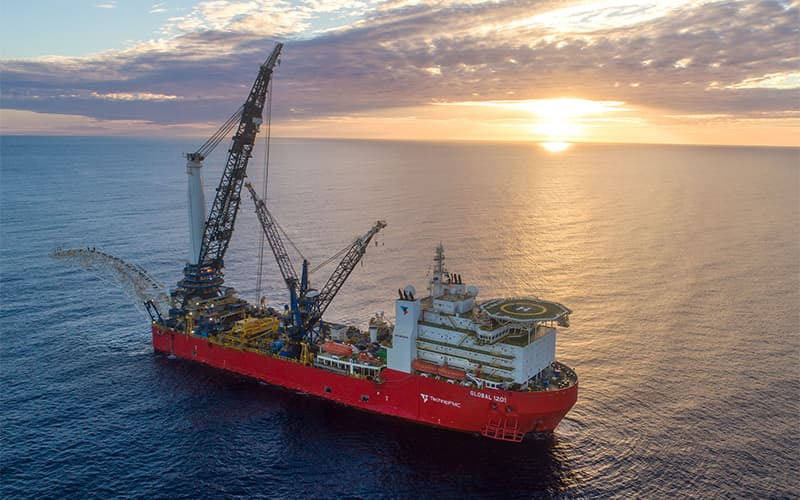 Day Two and Three: Filming
Once onboard the vessel, it was time to meet the ship's team. Before filming could begin, airspace for the drones to fly was secured with a  permit. A check on simultaneous operations was completed to other potentially dangerous activities didn't take place on the ship while the drones were flying. An area was roped off to allow the drones to take off and land safely. A spotter kept an eye out for any hazards in the air, and on the ground within the vicinity.
With complex offshore operations such as this, you only get one opportunity to capture the action. It's imperative that the drone is in position and the shot is framed up and ready to go. Epigroup team had to be inventive and use as many angles as possible to give a variety of options for the edit. By the time filming wrapped, the team had captured over two hours of footage totalling across 48 hours on onboard.
Two Days Following: Editing and Post-production
The footage went into the editing suites for post production which included cataloguing, editing, addition of motion graphics, narration, titles and a final colour grade to complete the four-minute video.
The final video and a collection of still shots were handed over to the delighted client within a week of returning back to Perth.
If you have an important project that needs capturing, send us a message and we'll get started.